YAM EAT DRINK PLAY
Restaurant Bar and Natural playground


LOCATION: Antiparos Village, Greece

DESIGN: M. Doxa, M. Vidali

CONSTRUCTION 2013-2015

LIGHTING: LiCy , C. Yaxas

PHOTOGRAPHY: X. Papadimitriou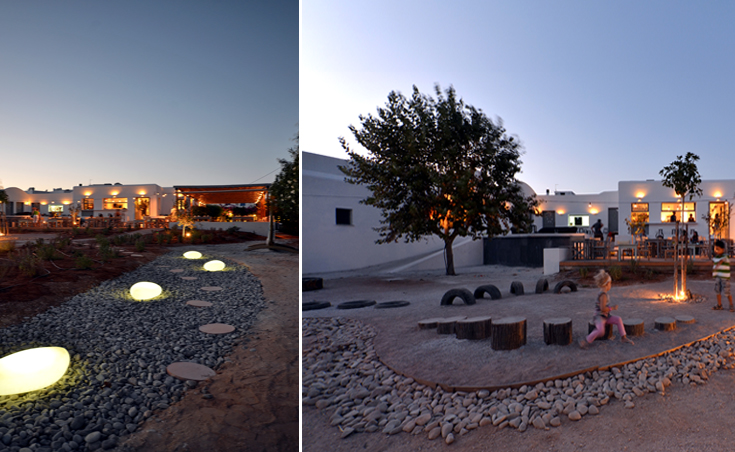 In the village of Antiparos, an old dance club and a thai restaurant where once housed in this building, standing at the edge of the settlement, looking out towards an empty plot. When the two venues shut down and the building returned to its owners, a new idea was born: a bar-restaurant, looking out towards a garden, where a natural playground is created.
The building has been renovated inside to accommodate a modern kitchen, a double-face bar (inside and out), an indoor exhibition and event space, and handicap facilities. The outdoor spaces have been redone, with a mix of new and old re-usable furniture. The wooden deck, perforated by pomegranate trees, the upside down pergola, the typical greek taverna table, the triangular shading canopies and the strings of lights, create an easy-going, comfortable atmosphere whereby traditional items are slightly tweaked to create a contemporary unusual yet casual ensemble.

The playground is constructed exclusively from natural, environmentally-friendly materials: wooden trunk sections for stepping stones, bamboo fences, pebble lakes, indian tipis, photovoltaic lights, car tire installations.